"In Honor of Historic Hayesville Inc."
--
Author Sara Hall, from Wake Forest, North Carolina was joined by attendees
in Downtown Hayesville at the 2017 Small Business Saturday event, for her
Book Release Signing and Live Reading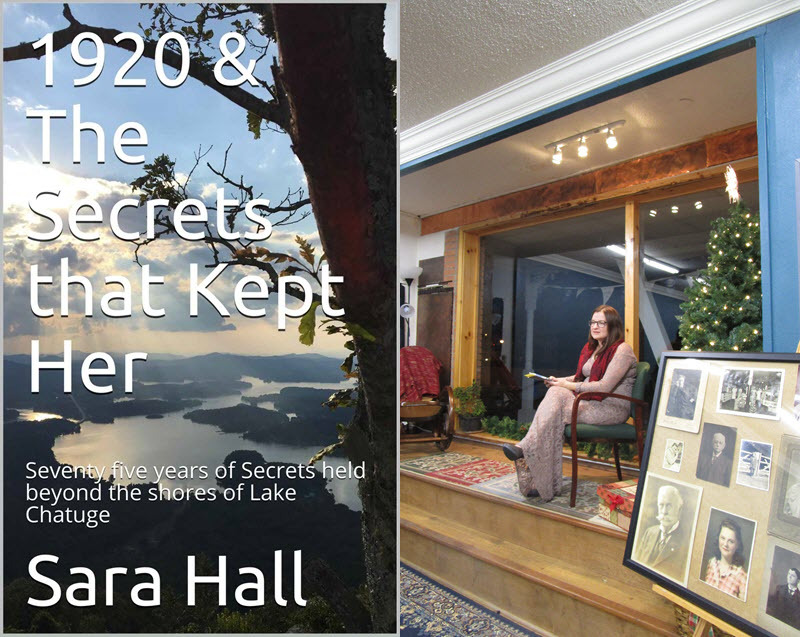 Those that were unable to attend the event can still purchase signed copies at the Historic Hayesville Centennial Exhibit.
The historical facts based in the book were collected in Hayesville over several visits by the author. After two years of research & creative writing, her book has been published and, in honor of the continued preservation of Downtown Hayesville, a portion of the proceeds will be donated to Historic Hayesville Inc. for downtown projects.
About the book:

"In 1941, Hayesville North Carolina was overrun with members of the Tennessee Valley Authority. As the TVA began to make plans for the development of Lake Chatuge, a fierce battle was set as landowners were forced to give up their fertile land. Three major families each face different events that change the face of the society, and the families bind together to take care of each other after one final standoff.
In 2014, Edmunds father had passed away. As he is preparing to close out his estate, Edmund learns that his entire childhood has been a created hoax his father engineered to contain her memory. Few people knew the real story, but those who did knew it has always been about her.
It's always been about Anna."
(Ref: Amazon)
Here's a sneak peek inside the book:
"Together, we have protected the heritage of Clay County, and until the first one of us passes, we will hold each other in confidence. After I am gone, and my estate is settled, you will inherit a large sum of money. I'm not sure how much it will grow to, but right now it's about $250,000.
I promise the money is legal, but when I accepted my portion, the deal was, it was only meant for those I left behind, and not for me to use unless I am unable to care for myself. My decision was made for me. Jackson will handle things for me, if I am unable to take care of myself. I am to do the same for him. That was part of the deal.
Trust only Jackson, and whichever Tomlin judge helps. I'm sure one of them will still be in power by the time you read this.
You will never know the real story, until long after I am gone. I never ran moonshine. It was never about running from the law. It's always been about Anna."
Visit the Historic Hayesville Centennial Exhibit or contact This email address is being protected from spambots. You need JavaScript enabled to view it. for more information.